Personal Training
with Wallace Merriman
The You Be Fit Personal Training Program – Simple, Convenient, & Fun! During this journey, we'll work together to achieve the goals you set for your personal fitness & your life. This is personalized, this is customized, this is one-on-one, and this is about YOU!
We, at You Be Fit, believe in being fit for life. You want to lose weight, tone up and have more energy, right?
I pride myself on the highest level of training, nutrition & support systems for each of my clients. The process is devised solely around you, your goals & your body type. Each plan is customized, goals are set and designed specifically for you.
With a trainer, you have a guide that you can rely on. You have someone with your best interests at heart, telling you "YOU CAN DO THIS!" You will achieve things with your body you never thought you could!
The best part is you don't have to go to the gym to work with a personal trainer.
 You Be Fit Fitness clients have various options to choose from.
We've helped countless people, just like you, get into the best shape of their lives without feeling deprived. People who have tried everything. People who feel like they weren't meant to lose weight. And people who just don't have time for the next new fad.
We provide the program, and we keep you accountable. Aren't you tired of setting the same weight loss goals without ever reaching them? Let us help you lay the foundation for success, and in return, we will help get you in the best shape of your life and stay that way for good!
If you are wanting to get serious about your fitness goals or wanting to take your training to the next level contact me!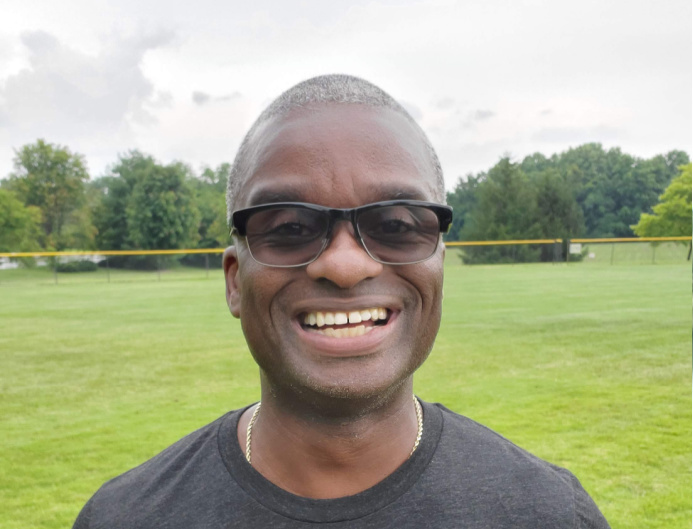 Wallace Merriman
Personal Trainer/Female Weight Loss Specialist
Here at You Be Fit, we help people take the confusion out of better health, exercise, and nutrition which is the starting point to success!
Being a former U.S. Army Master Fitness Trainer, Personal Trainer, Certified Fitness Nutritionist (CFN), Group Fitness Trainer, POUND Fit Instructor, Bootcamp, and Aquafit Instructor in addition to being a Health & Fitness Consultant, I have a passion for helping people in the areas of wellness, exercise, and fitness for over 20+ years. "Your Health Is Your Best Investment".  
I lost 45 pounds in 2020 (during a pandemic, as a single mom, buying a house, and getting a new job) with coaching from Wallace Merriman, and now I am ready to get into swimsuit shape! No excuses!!
You Be Fit goes deeper than just exercise. They get down to the core and reason why I was stuck in a up and down weight gain. YouBeFit addresses the whole body, both mentally and physically. He is encouraging, no-nonsense, tough and caring all at the same time. He finds what works for you and your life and body. I have and will continue to recommend You-Be-Fit. Their a game changer!
I have gone down many paths for maintaining a healthy weight with some success but unable to sustain the weight loss. Wallace, of You Be Fit, is extremely qualified, specializes in weight loss for women, and has helped me not only to articulate my goals but also to identify the roadblocks to my success. He does this with an extraordinary grasp of female psychology, humor, enthusiasm, and energy. He provides daily positive reinforcement and reminders of what you are going to accomplish. This includes a detailed plan of what you need to do to attain your personalized goals. I would recommend him to anyone who is serious about healthy weight loss through lifestyle changes. I'm down 37 pounds and loving the New ME!!! Thanks, Wallace!!!
Wallace is an AWESOME fitness instructor and personal trainer!! Wallace is a unconventional instructor/trainer that analyze, educate, motivate and support his clients before ever discussing a cost. Whether fully on board or still working on workout schedule, Wallace still send daily motivators to keep you focused for the day!! You won't be disappointed!!
Wallace is kind, positive, and motivating! He does not judge and encourages clients to do their best. You Be Fit works if you are ready to make a change. Weight loss. I lost 17.4 pounds!!! Thank you for helping me change my life!
I initially thought his program was going to be too intense for me to handle, but with his support and motivation, I have made progress, both mentally and physically. I also thought the food prep and consistent check-ins would be too much but I truly appreciate the accountability each day. Wallace's motivation and constant positivity made me feel that I could accomplish anything that I put my mind to. His daily mantras and scriptures kept me focused each day and gave me the initiative to keep going and not quit! He is serious about his craft, so you'd better come correct or don't come at all! Wallace has more energy than anyone else I know, but he uses it to make you a better person!!! I lost 16 pounds and still going!!!
Wallace is phenomenal. He has inspired me to continue working hard, he shift my mindset in very positive ways. If you are in doubt and worried about failing, Wallace simple method of motivation and empowerment helps to improve one's mood. All his exercises are fun, energizing and motivational!
Within a short 6 weeks, I was able to gain buns and guns (inside joke) lol.
I have learned the correlation of drinking tons of water and eating frequently.
Thank you Wallace, thank you "You be Fit"!
Wallace is knowledgeable about how to get the job done! He works with you and tries to figure out what you have been doing to make a lifestyle change and what you need to do better. Most of all he is motivating and is on your side to help you achieve your goals.  Down 18 pounds, I developed new habits and a renewed lifestyle. I'm just getting started!!! #youbfit
Wallace is consistent and will make sure you are doing what you suppose to do. However, you gotta put the work in!!!
Wallace will keep you accountable if you are serious about your health. And he encourages you to push yourself to get the rewards. He is always available to speak with you through your difficulties. HE IS THE BEST!!! #youbfit
Exercises are easy to follow and if unsure of how to perform an exercise the video is there to help you. Easy communication. My results were better than what I expected and I want to continue to do better on my health journey. Wallace will continuously motivate you to be more than your very best. Thank you for the push!!!
Join Our Weekly Health and Fitness Newsletter and Let's Keep in Touch!